Looking for Wardrobes?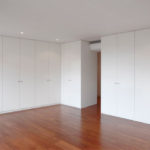 There is an impressive range of stylish Custom Built In Wardrobes, Walk In Wardrobes and other storage solutions to choose from at Rebel Wardrobes.
All of our Built In Wardrobes Solutions and Walk In Wardrobes can be custom designed to suit the layout of your home.
There are many kinds of wardrobes that you can use to complete the design and functionality of your home's bedrooms. The best is one which is integrated into the design of your bedroom – and they often have a lot more space to store your possessions.
When choosing the design type you want for your home, you should consider installing built in wardrobes. While the cost may be higher than a freestanding wardrobe because it needs to be installed into the walls of your room, they will usually be far easier to keep tidy and complement the overall decor of your bedrooms.
At Rebel Wardrobes, our wardrobes are made from only high quality, durable materials and fixtures ensuring you enjoy a lifetime of confidence.
With expert sales consultants, friendly service, quality installations and real value for money, your search for a quality wardrobe is over.
We offer a wide range of options and services to meet your wardrobe needs:
• Sliding and hinged wardrobes
• Mirror, glass and timber doors
• Renovate existing wardrobes
• Custom walk in wardrobes
We are proud to offer a 15 year guarantee on all of our wardrobes. We stand by the quality of our product and the workmanship of our experienced wardrobe installers.
With our experienced professionals, crafting works of art in the form of wardrobes and the use of only the best materials in their construction, Rebel Wardrobes ensures that you get to know how every service and product is meant to be delivered. The tireless effort we put into our work enables us to guarantee the high quality and longevity of our products beyond expectations.
Your seamless experience begins as soon as you call us for a free no obligation quote because unlike the competition we visit your place, understand your needs and budget and then suggest several suitable wardrobe designs for you. All this consultation is completely free of charge, we know you didn't expect this but it's the Rebel way, to listen and understand, be able to see the chosen bedroom in its true light and offer our best advise so you are left in the best possible position of being able to make the right informed choice for your home.
All the sliding wardrobes and doors designed and built by Rebel Wardrobes for people in Sydney are crafted in such a way that they utilise every inch of the available space. Further, to be sure that you like the part that you will be using every day i.e. the interiors, we custom build to your needs and demands. Hence, every wardrobe and sliding door is different from the run of the mill competition and is well suited to the purpose it serves: This will place a smile on your face every time you open it.
The Sliding Wardrobes and doors for your Sydney home are built after due consideration of the interior of your room. This ensures that it complements and enhances the design and furnishing of your home. So give us a call, and be amazed!
Visit our showroom in person or view our online gallery to see for yourself and we'll provide you with a free measure and quote today – you won't be disappointed!