Searching for Custom Built In Wardrobes?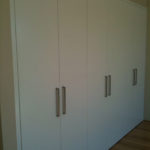 Are you in Sydney, and on the hunt to find the perfect custom built in wardrobe provider? With enough range, versatility and ability to customise any space and need, there's no reason to settle for second best when it comes to your home or office storage space.
Here at Rebel Wardrobes & Shower Screens we have all your built in wardrobe needs available using quality products and materials.
The Leading Provider in Custom Built In Wardrobes
Our Custom Built In Wardrobes might just be worth investigating. The benefits of having Rebel Wardrobes & Shower Screens custom design  your very own built in wardrobe includes:
A custom built wardrobe solution that takes advantage of the whole of the available space in your room.
The interior of the wardrobe is designed to meet your needs. It's not an "off the shelf, one size fits all" model – your built in wardrobe is customised for your needs and uses, resulting in the best return on your investment.
You can choose your door type and the design that best suits the style of your home and complements the existing colours and shades.
Increase the appearance of space in your home by tucking away more of your possession out of immediate sight, giving a clean, minimalist impression.
Increase the sense of space in your room – mirrored doors on a custom built in wardrobe makes it appear as if the room space is doubled and increases the natural light in any room through its reflection.
Economy. Rather than regularly buying mismatching furniture, install a space appropriate solution and only pay once.
Increase the value of your home when it comes to resale, particularly if your next move will be downsizing and you won't want the excess furniture!
The Professional Providers of Custom Built In Wardrobes
Rebel Wardrobes & Shower Screens deliver Custom Built In Wardrobe designs and offer a free consultation to work with you to create a solution to meet your storage needs before providing you with a quote and tailored options.
It can be overwhelming if you don't know where to start! But your search for custom built in wardrobes is over – next step is to contact us at Rebel Wardrobes & Shower Screens to so we can help you create your dream custom built in wardrobe design.