Looking for a Walk In Wardrobe?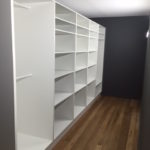 Choosing the best furniture to install in your house can be difficult, especially if you don't know what your many options are. It is important that you know what you can use to help you furnish your house, as it can help you to make the best decisions. One of the vital aspects of furnishing your bedroom is installing a walk in wardrobe in your room to hold your clothes, shoes, and other items.
A walk in wardrobe is one of the best types to use in your house, and these often provide you with the most space to store your items. Any area that is large enough for you to walk or move around in is considered a walk in wardrobe and you can store a lot more things in one of these designs than in a regular built in wardrobe.
Walk in wardrobes usually have two or three walls designated as shelf space, and the extra space makes it an excellent choice for anyone who wants to store a lot of items out of sight. Premium, costly, and large houses often utilise these as the best kind of storage space, and many master bedrooms in regular houses are beginning to incorporate these into the layout of the house.
We specialise in Walk In Wardrobes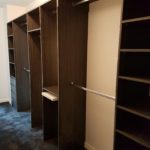 One of the main benefits of having walk in wardrobes is the fact that you have a good deal more space than with any other kind. Usually there are at least two walls designated exclusively for storage, shelf, and hanging space, and they often come with a third wall for storage as well. This means that you have two or three walls dedicated entirely to giving you space to store your possessions.
Usually walk in wardrobes come with:
– A bar where you can hang all of your dress and fancy clothes that need to be hung
– Shelf space and cubbyholes designed to store knick knacks, small items, jewellery, and other items.
– A shoe rack or hanging shoe storage, which allows you to organise your shoes easily
– Drawers in which to place your clothes
– High storage space where you can place items that you use less frequently.
Walk In Wardrobes – The Experts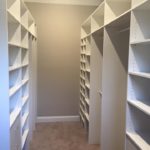 All of these features guarantee that you have more than enough space to store everything that you own, as well as providing a place for you to organise all of your possessions easily.
The average walk in wardrobe is integrated into the design of the house, and the shelves are nearly always made out of sturdy wood. For those who want to add a more modern or minimalist look, there are some made out of metal that are easy to install.
There are many online stores where you can find the best designs, or you can visit a furniture store to price the different models that they offer. You can easily find walk in wardrobes that complement the décor of your house, and you will find that the extra space is an excellent addition to your house.
Call or email us today to find out how you can have your dream walk in wardrobe just the way you want it!