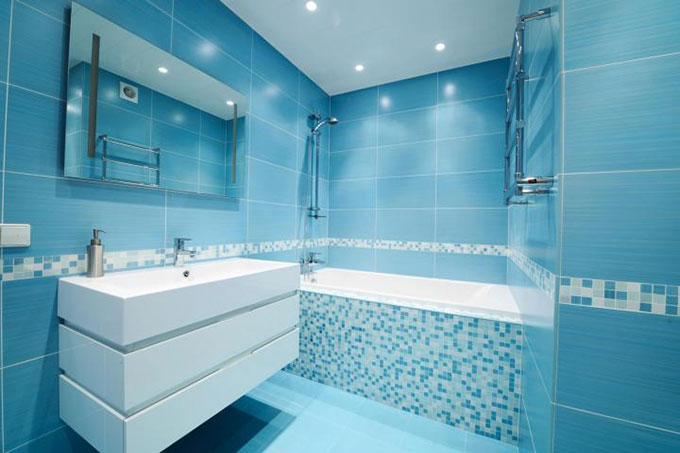 Why is the smallest room in the house so often one of the most important to get right? Bathroom colours and textures may be a matter of personal taste, but the most annoying and costly problems with bathrooms invariably stem from bad design. A well-designed bathroom is a pleasure to use and adds significant value to a home. If you're upgrading your bathroom, make sure you avoid these common design gaffes.

Budgeting too little
You don't have to go all out on gold-plated taps and marble floors, but it's important to start with a budget that will make the renovation worth it. Updating the tiles and taps will give the bathroom more aesthetic appeal, but will it solve the bathroom problems that are inspiring the renovation? If changing the plumbing will make the room more functional then make sure you have the budget to do that. You should also allow an extra 15-20% of your budget for unforeseen circumstances such as mould or broken pipes.
Fashion victim
Shag carpet, peach tiles and terracotta all had their eras, but they aren't on buyers' wish lists when they go house hunting these days. Bathrooms with neutral colours, simple tiles and a fresh, clean look will outlast any trend. With this kind of clean palette you can update your bathroom with removable decor such as contemporary bath towels, shower screens and ornaments, without the risk of dating it.
Cheap fixtures
After the expense and inconvenience of a bathroom remodel, you want fixtures that are going to last. Cheap vanities are a false economy if they yellow, stain or break in the first year or two. Cheap mirrors and taps can also tarnish and replacing them is awkward and expensive. When buying bathroom fixtures, try to imagine what they would look like after a few years of use.
Letting form override function
Stand in the shower cubicle you've chosen and pretend to wash your hair. If your elbows are banging against the glass, you won't care about the colour of the tiles as much as you do the size of the shower recess. A good bathroom prioritises a practical layout and then works on the aesthetics.
DIY horrors
Waterproofing, plumbing and electrics are all jobs for the experts, as is tiling with a professional finish. You may be able to save money on bathroom renovations by removing old fixtures and tiles, but leave the tricky jobs to the professionals.
Unapproved works
Acquaint yourself with the local building codes and obtain any necessary permission before you start building. The only thing worse than a badly designed bathroom is one that has to be knocked down because it wasn't approved by the local council.
No storage
A pedestal basin is pretty, but having all your toiletries vying for space on top of it isn't. A cabinet-style vanity is a more practical option, especially in small bathrooms where space is a premium.
Designing in isolation
Unless you never, ever want to sell your home, keep your bathroom renovation in line with the rest of your home. A modern bathroom looks odd in a period home and a tiny main bathroom is impractical in a large family home.
Money down the drain
With energy, water and gas bills increasing all the time, smart renovators are looking for energy efficient bathroom choices. A bathroom renovation is a great opportunity to ensure long-term savings with water conserving toilets and showers, solar hot water and energy efficient lighting.
Poor lighting
Everyone needs good bathroom lighting. Great design considers the lighting needed for close work, like applying make-up, romantic lighting for relaxing in the bath, and dimmed lighting for late-night trips to the loo.
Bathrooms aren't easy to change, so ensure you get the design right from the beginning and you'll enjoy the benefits for many years to come.