Living with small spaces ultimately means you have to compromise, but that doesn't mean going without. Thought about carefully, you can pack lots in without feeling cramped and can still enjoy style, comfort and an open feel.
With soaring real estate prices, more and more people are finding themselves living in smaller homes. While there's some bad news to that, there's good news also in that modern designs are evolving to ensure maximum storage and streamlined effects that perfectly compliment small-scale living.

The key to successful small-scale design is research, discovering what you really need and how best to achieve it. Essentially, there are 17 main principles:
1. Custom storage solutions will be your best investment
Built-ins and modular furniture units allow you to define a room without enclosing it. A carefully designed custom-made wardrobe or unit makes use of every space both vertically and horizontally, offering you valuable storage. It can also add value to your home by displaying to potential buyers how easy small-scale living can be.
2. Mirrors and glass help expand a room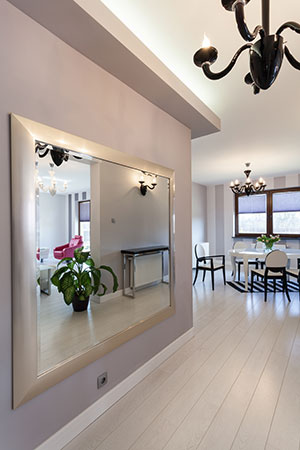 Reflective elements, such as mirrors, crystal and silver help you amplify light and expand the overall feel of a room. Hang a mirror opposite a window with a great view and immediately, it acts as an optical illusion.
3. Multi-purpose furnishings are a must
Items that double up for multiple purposes are essential in a smaller home and offer flexibility in a space. Sofa beds are great for the living room or office space when guests come over, and there are some incredible bed systems available for both the master and kids bedrooms which pop up effortlessly to allow storage underneath. Even stairs can be made to hide drawers or cupboards.
4. An open entrance gives the illusion of space
The entryway to your home should always feel the most open, as this will be the first impression people get of your home. Being open also allows for better efficiency, which is needed when living a busy life. One option could be to line one wall with a bench that could double up as a storage box and become a place to slip shoes on and off.
5. High traffic calls for more space
The more people that use a room, the quicker it will get messy. Functional furnishings, such as ottomans and coffee tables with drawers give opportunity to hide things when people are coming over and can help you have the essentials nearby, without feeling cluttered.
4. Zones add depth
By creating zones within the one room, you give a space multiple purposes. A kids room, for example, is not just for sleeping. When zoned carefully, a kids room can be an area of play, studying AND sleeping.
5. Going up will use wasted space
Instead of sticking a sofa bed in your office and having it out of bounds when guests come to stay, try suspending a spare bed over your office desk. This gives you the benefit of keeping all floor space for yourself and removes the uncomfy sofa bed from the equation.
6. Getting creative pays off
Having a wardrobe that makes use of the full wall space makes sense, but what doesn't is hanging clothes too high to reach. Instead of sending your clothes up high, keep them low and handy and try placing your bed on top of the wardrobe. This will free up valuable floor space and give the room a modern, innovative feel.
7. Wardrobe organisers work wonders
We can't all afford the luxury of a great walk-in robe, so try storing winter clothes away in summer and using wardrobe organisers to separate clothes from accessories and shoes.
8. An efficient laundry is a good laundry
Visitors very rarely pay attention to your laundry, so pack as much in there as you can. Full wall storage units can make all the difference, but so will ensuring the space is efficient. Your laundry should have some counter space for folding, accessible draws for detergents and a hanging area for drying or ironing.
9. Overhead ceiling racks are great for the garage
If you live in a city or heavily populated area, you need access to your parking space. If you've got too much stuff in your garage, try investing in some overhead ceiling racks for storing all the large items you rarely use.
10. Impulse shopping is a no-no
If you live in a small home, either stick to window shopping or apply a "one in, one out" rule. The more you buy, the more cluttered your home will become, so think very carefully about every purchase.
11. The outside should be an extension of the inside
Creating a similar theme outdoors will offer the illusion that your interior is bigger. Make use of all your garden space and keep it looking neat and tidy. Small homes and gardens have no room for weeds!
12. Kitchens need to be functional
The kitchen is often the busiest room in the house, therefore practical planning must come into play. Drawer organisers work well for storing dry goods and hooks can be used to hang pots and pans that take up important cupboard space.
13. Everyday items can be art
Instead of buying expensive art that takes up precious wall space, try creating art out of things you already own. Your prettiest jewellery can be hung from hooks, the family bikes can be strung up or family photos can be turned into wallpaper for a feature wall.
14. Dead space shouldn't be wasted space
The typical home is full of weird nooks and crannies that you're not quite sure what to do with. Stop thinking and start filling. Tucking drawers or shelves into little recess areas soon takes pressure off the main storage areas.
15. Decorative boxes and baskets are your friend
Storage containers don't have to be your boring old plastic ones, and they don't have to be hidden away. Try stacking a set of vintage suitcases to act as a side table, start collecting colourful baskets or create a wall of glass jars in the kitchen.