Sydney's Built In Wardrobe Specialists
Welcome to Rebel Wardrobes & Shower Screens, Sydney's leading provider of Custom Built In Wardrobes, Walk In Wardrobes, wardrobe storage solutions and Frameless Shower Screens.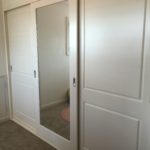 At Rebel Wardrobes & Shower Screens we've installed a huge range of custom built in wardrobes and shower screens to thousands of residences across Sydney, catering to their individual needs. Not only are our products of the highest quality, but we pride ourselves on delivering a complete end to end service based on affordability, efficiency and convenience.
You'll be sure to find a solution you like by browsing in our online gallery – visual proof to you that we deliver what we promise. If you'd like a quick quote, just enter your details into the form on the right and we'll get back to you shortly.
Alternatively, you can talk to one of our friendly staff on 9522 0402 during business hours.
So if you are looking for the leading Built In Wardrobe specialists, then look no further than Rebel Wardrobes & Shower Screens.
Are you looking for a dressing room upgrade? Rebel's fitted wardrobes, Sydney's number one wardrobe company, specialises in high class walk in wardrobes and built in cupboards. You are bound to find the perfect design for each bedroom in your home. That's because Rebel Wardrobes will design, build and install your custom built in wardrobes from scratch!
The most impressive built in wardrobes Sydney has ever seen!
You already recognise us as the best in the business for two main reasons:
First, the material used for your wardrobe project is the highest quality in the industry.
And second, installation is always done to perfection.
That's exactly why you can trust us to deliver the highest value built in wardrobes Sydney as to offer.
In Sydney, built in wardrobes are becoming more and more of a necessity. Because of new construction projects across Sydney, wardrobes of different types are being asked for. People like you are looking for options; and that's exactly what we offer. Allow us to become your one stop supplier & installer for each and every bedroom in your home. Whether it's a house renovation or a new project, quality & efficiency are what you get when you choose Rebel Wardrobes.
You'll find the design you've envisioned by browsing through our gallery. Looking for some great ideas? Our gallery is full of various custom wardrobes Sydney has enjoyed at our hands.
Your wardrobes will be enhanced by our innovative designs. It takes our experts to design and fit them to perfection. Choose the best to ensure satisfaction. Choose Rebel Wardrobes.